Features
A new paper uses TOA-MD to assess technologies in a 1.5 degree C world
Abstract. In 2015 the United Nations challenged the scientific community to evaluate development pathways consistent with the goal of limiting global average temperature increase to 1.5C. This study reports analysis that was carried out as part of a project responding to that challenge. Using recently developed methods for regional integrated assessment of agricultural systems, this study evaluates the economic and environmental performance of dryland farming systems in the U.S. Pacific Northwest, a major wheat production region, under greenhouse gas mitigation and policy scenarios consistent with the 1.5C goal. A novel feature of this study is to combine bio-physical and economic models with site-specific Life Cycle Analysis to evaluate both the economic performance of current and possible alternative farming systems. The analysis shows that these farming systems could be adapted through changes in management to reduce soil emissions of greenhouse gases and incorporation of new biofuel crops, and could be affected by changes in prices and costs of production associated with greenhouse gas mitigation policies. These changes could result in a win-win outcome for those farms in the Pacific Northwest region where site-specific conditions are suited to these adaptations, providing both higher farm incomes and contributing to greenhouse gas emissions reductions. A key implication for mitigation and adaptation strategies is the need to coordinate climate policy design and development of technologies needed to achieve policy goals.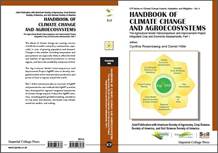 Check out the Handbook of Climate Change and Agroecosystems.  John Antle and Roberto Valdivia co-authored many of these chapters.
Chapter 2 - AgMIP's Trans-disciplinary Agricultural Systems Approach to Regional Integrated Assessment of Climate Impact, Vulnerability and Adaptation, by J. Antle et al.
Chapter 5 - Representative agricultural pathways and scenarios for regional integrated assessment of climate change impacts, vulnerability, and adaptation, by R. Valdivia et al.
These chapters and the full handbook are available for free online at WorldScientific.com.  These and other publications of the Tradeoff Analysis Project are listed in the Applications Library are available for personal use by emailing a request to tradeoffs.team@oregonstate.edu.  Publications and related data sets are also available to all registered users of the TOA-MD software.